About Us
We deliver creative, value-added and timely financial proposals and services to a wide range of customers. Mizuho Marubeni Leasing aims to be the best partner for all our customers to together create the future, through providing leasing & financing and consulting services as a total financial services company.
Mizuho Marubeni Leasing Corporation is a joint venture between Mizuho Leasing Company Limited and Marubeni Corporation.
Ownership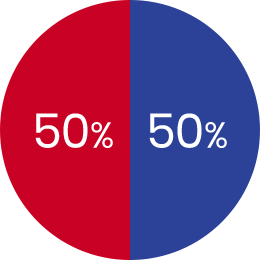 Our strengths

• Robust international network as a Sogo-Shosha
• Achievements in a broad range of business fields

• Width of knowledge of goods and Depth of understanding of trades
• Experience across a range of fields and Deep Understanding of sales channels
Our strength is the ability to offer value-added, unique services by leveraging these properties.